The south Coast Yachts Team and Family at the San Diego Summer Boat Show.   Welcome  to South Coast Yachts!  We work hard to find you the best boat for your money and offer the purest integrity while representing you.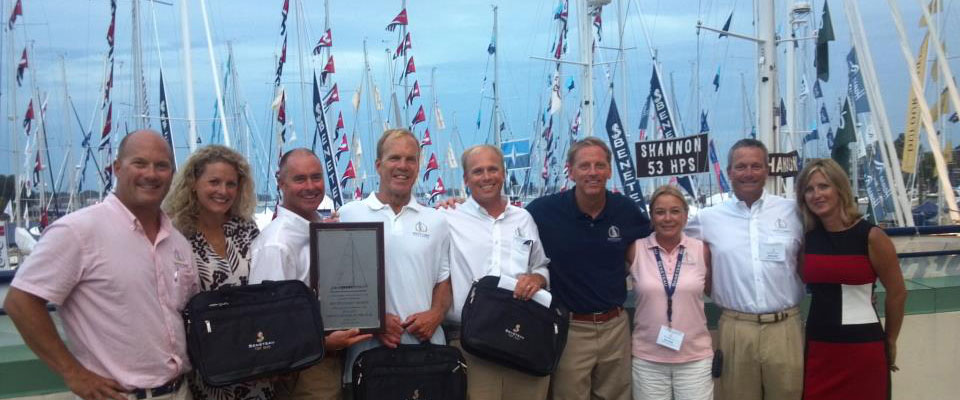 You will really enjoy meeting Bob Bergman! He started young by taking sailing lessons at Mission Bay Yacht Club in 1963 while his father was captain of a Navy ship. The first boat that he owned was in second grade and was obtained (by a brave Bob) by grabbing it off a beach in Key West, after it was abandoned by Cuban refugees fleeing the Castro regime after the missle crisis. (beat that for a first boat story!) Bob came to us after a career commissioning new Island Packets in San Diego and we enjoy hearing stories about his 4 years cruising...
read more
Yvonne comes to South Coast Yachts bringing a wealth of information in logistics, administration and international yacht racing and cruising. Some of her experience includes working aboard the J-Class boat Endeavour, cruising  the Caribbean, New England, Mediterranean and England. She was also part of Endeavour's  racing crew,  participating in regattas such as The America's Cup Jubilee in England and several Antigua Classics Regattas. Yvonne has about 32,000 offshore sea miles logged, including 2 Atlantic crossings, several...
read more
Scott Young grew up in Manahattan Beach CA, and has been involved in Sailing and Surfing since the 5th grade. His father had a power boat at King Harbor Marina and that is where Scott's passion for boats began. The neighboring slips were sailing families that exposed Scott to racing and cruising trips to Catalina. Scott had the bug and enrolled himself in youth sailing classes at the Palos Verdes Yacht Club. After completing his first course he was asked to run the youth sailing program for the next 2 summers. Scott says, "Teaching and...
read more
Member of the California Yacht Brokers Association (CYBA) Dea has enjoyed being in the recreational marine industry in San Diego since 1987. She brings diverse experience including sales of Island Packet, Tartan and C&C, as well as powerboat experience with Hatteras, Grand Banks and Eastbay. She is thrilled to be in the position of selling new Beneteau and pre-enjoyed boats here at South Coast Yachts and says, "This is the most cohesive team completely committed to excellence in customer satisfaction that I've ever seen....
read more
Rob grew up sailing on Lake Geneva, Wis. and crewed for his dad from the age of 4, so sailboats are in his blood. As a young man he was competitive in the 150 boat E-Scow fleet on the lake and went on to sail as a collegiate sailor here in Southern California at USC where he took 4th in the College Nationals in the Sonar class. Rob really knows how to make a sailboat go fast and the great advantage in dealing with Rob is his ability to teach. Rob came to us from a position as Senior Instructor at J-World. His focus is on providing his...
read more
Paul Briant was born on the Caribbean island Grenada and cruised many oceans on his family's chinese junk as a child. Once you meet him, you will realize that he is one of the friendliest and most knowledgeable sailors alive. "When we have a boat question that we can't answer, we ask Paul Briant", said Barrett Canfield, president of South Coast. Paul and his wife worked as captain and crew on large private yachts throughout the Med. and Caribbean and settled in San Diego in the '90s. Please call or email Paul for...
read more
Barrett has been sailing since he was 5 and loves to share his enthusiasm about the "motion of the ocean" and the way of the wind. He grew up on Long Island Sound, managed a charter company in the Caribbean, and lived and sailed in New England, where he started his 17 year career with Beneteau. He has deep passion for sailboats and all other things that float. Barrett holds the record for the top producer in Beneteau sales in North America and accomplished that through sincere care for his customers and the ability to listen to...
read more
Rick joined South Coast Yachts as a Corporate Director in September 2009 to assist Barrett Canfield in starting and growing the dealership. He and Barrett first became acquainted in early 2007 when Rick was in the market for a new 40' racer-cruiser and ultimately chose his current '08 Beneteau First 40.7 "Audacious". They became good friends during the commissioning process. Rick's earliest memories of sailing are of "investigating" the Maryland coves of the Chesapeake on his family's 16' catboat. Later in years, Rick raced...
read more