Dinghy Doctor – Your Inflatable Boat Specialists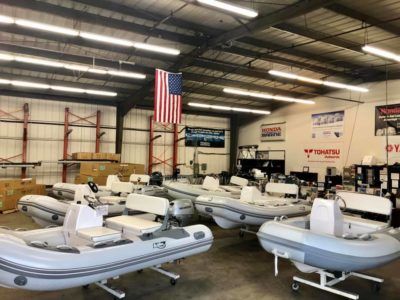 A little history
The Dinghy Doctor has long been San Diego's largest inflatable boat and outboard experts. After 18 years of serving the boating community, the owners decided to pursue other endeavors and close their business. When South Coast Yachts heard that San Diego was going to lose this important maritime vendor, they decided something had to be done.
They quickly put together a deal to acquire the Dinghy Doctor, so that they could bring the same great service that people receive from South Coast Yachts to the inflatable boat community in Southern California. They brought in Charlie Winter to the team as General Manager. Charlie is committed to superior customer service, and engaging with new and experienced boaters alike.
The Dinghy Doctor is centrally located in San Diego "where the 8 meets the 5"; and will continue to carry trusted boat brands such as Zodiac and Achilles, as well as Honda, Tohatsu, and Yamaha Outboards.
Our Core Values
The Dinghy Doctor is dedicated to establishing and maintaining relationships built on trust and service while satisfying our customer's boating needs.
The Dinghy Doctor is dedicated to treating all of our customers better than they expect to be treated. We strive to be regarded by our customers as the very best company in the industry.
The Dinghy Doctor will actively work to better the boating experience for our customers and our community.
The Dinghy Doctor will make sure that EVERYTHING we do ultimately serves the customer, whether we work in sales, service, administration, marketing, or management.
Visit the Dinghy Doctor website at dinghydr.com
The Dinghy Doctor, Inc
3710 Greenwood St, San Diego, CA 92110
Hours: M-F 9am – 5pm, Sat & Sun 9am – 2pm