We watched with an almost macabre fascination as the horrible news, devastating images, heart-wrenching Facebook posts and – eventually – video footage of the utter destruction caused by Hurricane Irma started emerging.
It was September of 2017, and we were landlocked in our home in Scottsdale, AZ while the BVI was literally fighting for survival.
We had two 50-foot catamarans on the hard stand in Tortola at the time. Ordinarily, they would have been secured with scores of other boats in the mangroves of the "safety" of Paraquita Bay, but we were in the process of selling both boats. For survey purposes, we had them hauled just before that terrible storm hit.
The result was utter devastation for the islands and its people. And the start of an immensely frustrating ordeal for us.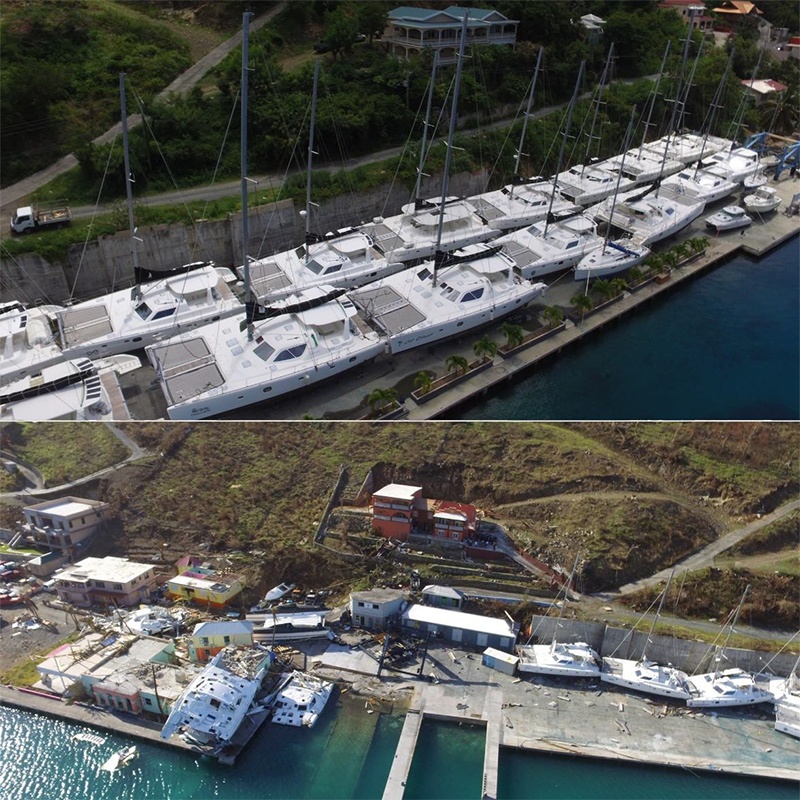 Our catamarans were properly hurricanized just days before Irma hit (top photo). Nothing could survive the destructive force of that storm (bottom photo).
Over the ensuing months, despite the headache of dealing with a very reluctant and unprofessional insurance company and the thousands in legal fees we had to incur to get the settlement resolved, we knew we would be in the market for a new boat.
And this time it would be different. This time, we were looking for our dream boat.