Dear clients and industry friends,
We are very excited to welcome Barry Wood to our South Coast Team. He will be working from the Newport Beach office. Many of you know Barry, Barry, Thank you for joining our team! We look forward to your success and working with you. – Barrett Canfield, President, South Coast Yachts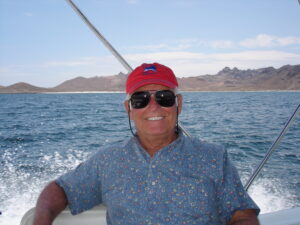 Barry Wood grew up on the water, starting at the age of 5 sailing Sabots, Skimmers and Lido 14s. He continued through his teen years very active in the sailboat racing community. The Harry Wood Lido Regatta, in which the family is still actively involved, is named for his father, a famous racing sailor and lifeguard. After a few years as a Long Beach Lifeguard, Barry joined the army and was awarded the Purple Heart in Vietnam. In the early 1960s, he started his boat selling career with Columbia Yachts and Duncan McIntosh, and Islanders & MacGregors with Eddie Arnold. Barry also worked at H&S Yachts for 18 years with his beautiful wife Sheila. As project manager for the MacGregor line, he was selling boats faster than they could make them. Barry and his family have cruised all over the world and especially love their fishing trips to Baja. Being a licensed Yacht Broker/salesman for more than 50 years, Barry has made many lifelong friends and wonderful relationships with his clients. Barry wants everyone to know he is very excited to be joining the South Coast Yachts team in Newport Beach. The feeling is mutual from the Team at South Coast!
Mobile: 949-500-0853