This is a cool app for sailors who want to send a "wish you were here" postcard to friends or family right from the boat on their smart phone.  Grandma's going to be SO happy to get real mail from you!

From Sail Magazine…
"Wish you were here…" Postagram, an app from Sincerely, is an easy way to send postcards right from your smartphone. This free app uploads photos from your phone, Instagram or Facebook, prints them as high-quality glossy photo postcards and delivers them by mail in the U.S. for $.99 or $1.99 in other countries. This is a great way to chronicle your travels and keep loved ones updated on your adventures.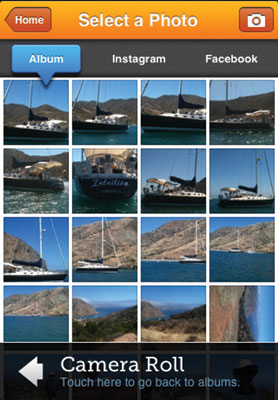 To use Postagram, simply sign in through Facebook or create a new Sincerely account (sincerely.com). Once signed in, create a Postagram by selecting a photo from your phone's photo album, Instagram or Facebook account. After selecting the photo, you can move and scale the image, select your profile picture (which appears on the card), add a personalized message and select the recipient from Postagram's address book or from Facebook. Order confirmation and status are emailed to your email address.
Read the whole article on SAIL Magazine's Website