Check out these pictures and info from Boattest.com on the new Beneteau Monte Carlo 5 (MC5)!
Wowza! She will be at the next Fort Lauderdale International Boat Show…
Taking pre-orders now!
From the Boattest.com Review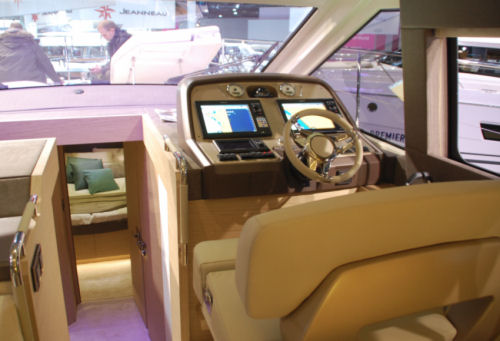 [quote]Clearly the new Monte Carlo 5 was inspired by the hatchet bows of several superyachts launched the last five years or so and the plumb bows and angular high-freeboard shapes of Wally yachts. But Beneteau has done them both one better in our opinion by burnished off the rough edges of those over-the-top, self-conscious designs and produced what could be a new trend in mid-size cruising powerboats.
This three-stateroom, two-head cruiser with flying bridge is powered by twin Volvo Penta IPS500s and has details and amenities intended to appeal to veteran boaters looking to move both up and down.  We inspected her last week at her debut in Dusseldorf, Germany and came back with lots of pictures and some first impressions.[/quote]
Read the entire review on the Boattest.com website