Dear friends,
I cannot begin to thank you enough for your kind gift. It was a wonderful, personal, and extremely generous gift.  The bed sleeps perfectly and for the first time, I was not in a hurry to get out of bed because of aches and pains.
My wife and I are always asking ourselves how we were lucky enough to meet the finest people in San Diego in one place. It is unbelievable how kind, thoughtful, and generous you have been to our family. You are a blessing to us. Each one of you is truly amazing.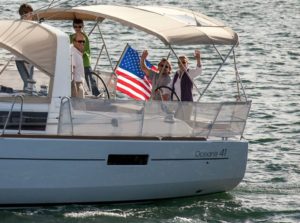 We find ourselves not wanting to leave after each stay. Our terrifying choice to step into the boating lifestyle has paid off immensely. Even though our Beneteau is remarkable, it is the people that are making our adventure rewarding. We love our trips to San Diego because we get to spend it with you.
Lee Glascoe, Owner, 4-1's Bene-fit